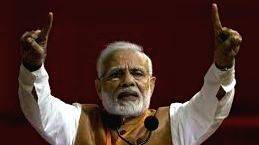 Any election usually comes to an end, leaving behind many facts and retaliates that deserve to be archived in history. The 17th Lok Sabha election will be remembered for the thunderous victory the BJP achieved under the leadership of Prime Minister Narendra Modi.
The BJP-led NDA secured this unbelievable victory for continuance of governance, shocking the whole lot of Opposition that stared at the Exit poll prediction with a sarcastic grin.
Though there were many reasons for anti-incumbency sentiments against the Modi government, the BJP was able to gain single majority in the 2019 Lok Sabha election. This was made possible only by the charisma of Modi and his political diplomacy.
The Congress that was hell-bent on ousting Modi at any cost, was not able to make much gains in this election. The depth of Congress Chief Rahul Gandhi's political debacle is evident from the fact that he was not able to prevent the strength of Congress MPs from dwindling to a two-digit number.
Another important fact is Modi, who is preparing for a second term as the prime minister, was able to make a foray into West Bengal, the current Trinamool Congress turf and a former Left turf.
After losing Bengal long back, the Left's only hope was Kerala and this time the State also turned its back on the LDF, astonishing even the critics.
CPM General secretary Sitaram Yechury had recently asked the people to be prepared to see big surprises shown by the Left parties like the ones shown by Messi on the football ground. But the greatest surprise is that surprise came out in this manner.
When the BJP made big gains in North India, they were not able to make any impact on South India except in Karnataka. In Kerala, UDF had a landslide victory. The BJP hopes to open account in Kerala was shattered.
The UDF's jaw-dropping victory is sure to make the Left do some introspection.
The LDF's massive defeat shows that the government is moving more and more away from the people.
However, this election result has opened the doors for discussions and political debates, not only in the coming days but also till the day of the next Assembly election to be held in 2021.