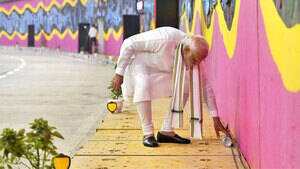 NEW DELHI: Prime Minister Narendra Modi inaugurated the Pragati Maidan Integrated Transit Corridor project. A video of PM picking up litter while walking through the tunnel has become viral on social media.
In the video Prime Minister is seen picking up empty water bottle and other garbage while inspecting the tunnel. In his monthly Mann Ki Baat radio speech, the Prime Minister shared his dissatisfaction with people for throwing garbage on the road.
Many people are commenting that PM Modi is expressing his sincerity to the Swachh Bharat mission. Some commented that this action reveals the commitment of the Prime Minister.
Prime Minister Narendra Modi inaugurated the main tunnel and five underpasses of the project at 10.30 am. The tunnel was opened to the public. Union Ministers Piyush Goyal, Hardeep Singh Puri, Som Parkash and Anupriya Patel were also present on the occasion. Modi said that the project was completed after overcoming several crises.

With the advent of the corridor project, it will be easy to reach the new convention centre to be built at Pragati Maidan. It also helps to reduce traffic congestion.