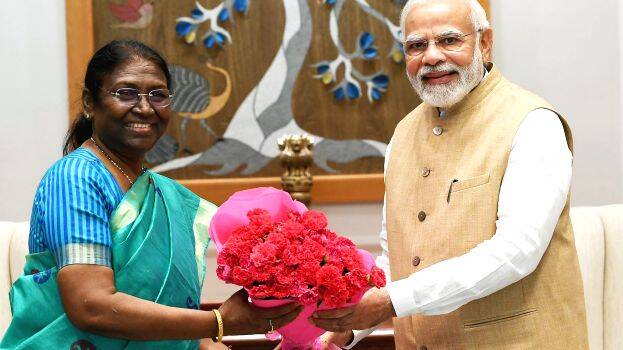 NEW DELHI: NDA presidential candidate Draupadi Murmu arrived in Delhi yesterday to file her nomination papers. She will file the nomination papers today. BJP leaders Adesh Gupta and Manoj Tiwari MP received her at the airport. Later, she met Prime Minister Narendra Modi.
"Met Smt. Droupadi Murmu Ji. Her Presidential nomination has been appreciated across India by all sections of society. Her understanding of grassroots problems and vision for India's development is outstanding," PM Modi said in a tweet.
Murmu later visited Vice President Venkaiah Naidu and Union Home Minister Amit Shah. Murmu was received by Venkaiah Naidu's wife Usha at the Vice President's residence. Murmu, who was accompanied by Union Minister Virendra Singh, spent about half an hour there.