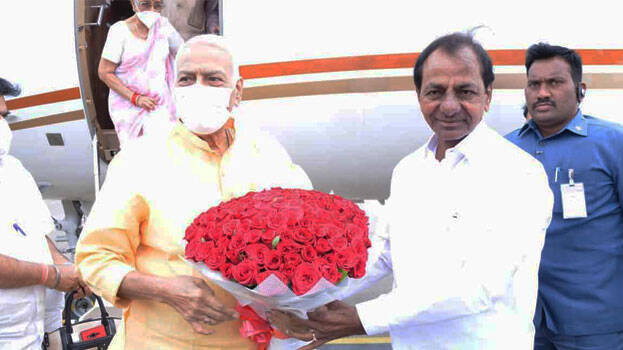 HYDERABAD: The ruling party TRS gave a grand welcome to the presidential candidate Yashwant Sinha who visted Telangana. TRS President and Telangana Chief Minister K Chandrasekhar Rao arrived at the Begumpet airport in Hyderabad and welcomed Yashwant Sinha.
Meanwhile, Chandrasekhara Rao will not come to receive Prime Minister Narendra Modi who is arriving at the same airport today. This is the third time in six months that Chandrasekhar Rao has not arrived to receive the Prime Minister in Telangana. TRS has also organized a rally in support of Yashwant Sinha, the opposition candidate for the presidential election.
TRS activists conducted a huge bike rally from the airport to Jalvihar. A meeting was also organized there in support of Sinha's candidature.
The BJP and TRS are showcasing their strength in Hyderabad. BJP has put up cutouts and banners highlighting the Centre's achievements while posters of Chandrashekhar Rao and Yashwant Sinha have been put up by TRS in return.
National President JP Nadda, Home Minister Amit Shah and Chief Ministers will attend the National Executive Committee meeting of BJP in Hyderabad. The Prime Minister will address a public rally at the Parade Ground in Hyderabad on Sunday afternoon. Hyderabad is hosting the BJP National Executive Committee meeting which is organized outside Delhi after five years.