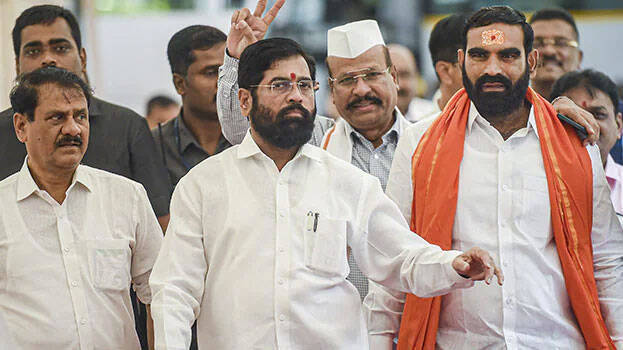 MUMBAI: Chief Minister Eknath Shinde's government proved its majority in the Maharashtra assembly on Monday. Santosh Bangar, a Shiv Sena MLA from the Uddhav camp, switched sides ahead of the floor test and voted in favour of Shinde. Bangar arrived at the assembly from the hotel, where rebel MLAs had been staying. Shinde has received a total of 164 votes. Around 99 MLAs voted in favour of the opposition, whose vote share has become eight less than what they had secured during the speaker election, last day.
The trust vote took place at around 11 am on Monday. Despite being a crucial test, Congress leaders Vijay Wadettiwar, Zeeshan Siddiqui and Dheeraj Deshmukh did not show up. Former Chief Minister Ashok Chavan reached the assembly only after the trust vote. Meantime, the reason for the absence of the two Congress MLAs is not known.
Last day, BJP MLA Rahul Narwekar had won the speaker election defeating Shiv Sena MLA and Uddhav Thackeray's confidant Rajan Salvi.