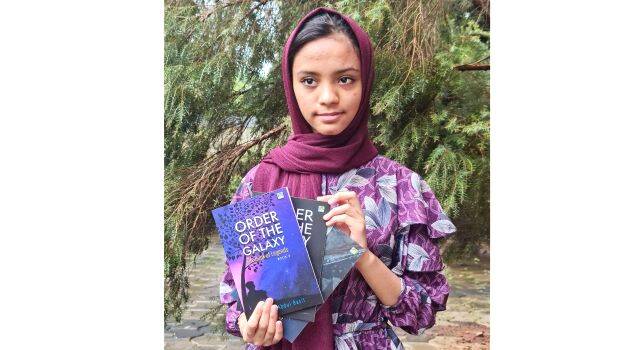 KOZHIKODE: 11-year old Laiba Abdul Basit, a native of Mahe has set a Guinness World Record as the youngest person to publish a book series.
Her book series is titled 'Order of the Galaxy' and is written in English. Laiba broke the record of 12-year old Saudi Arabian student to become the youngest ever to publish a book series. The plot of Laiba's novel revolves around the journey of a group of children among celestial wonders.
She received confirmation from Guinness authorities last day. The certificate will be received within twenty days.
Laiba is the daughter of Abdul Basit and Thasni Abdul Basit. Her father is an oil company worker in Qatar. She is a sixth standard student at Olive International School, Qatar. Her first book is 'Order of the Galaxy, Snowflake of Life'. She was 10-years and 164 days old then. The main characters in the novel are Olivia, Olives, Mike and Avery.
Amazon was the first publisher. Now the publication rights was bought by Lipi publications. Laiba started reading when she was eight years old. She has read many books including epic novels. This motivation is the cornerstone of her writing. She started writing with the encouragement of her family and teachers. The preface of her book was written by former Chief Secretary K Jayakumar. Laiba is currently writing the fourth book in the series. The novel is set in space.