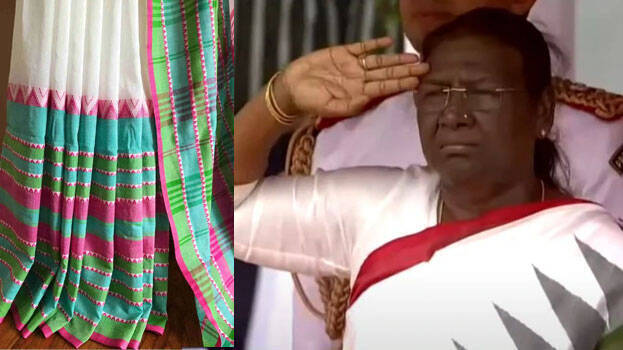 The saree worn by India's 15th President Draupadi Murmu during her swearing-in ceremony, has become the current talk of the town. Murmu was seen wearing a Santali saree, gifted by her sister-in-law Sukri Tudu, used by Santal women in eastern India. Sukri along with her husband Tarinsen Tudu had arrived in the national capital to witness the swearing-in ceremony at the Central Hall of Parliament. Let's find out the specialities of the Santali saree, a traditional attire of tribal women in Mayurbhanj, Odisha.
The Santali saree is generally worn during religious celebrations, especially during the tribal festival of Baha (flower festival). It is also worn during gatherings and other joyful occasions. It is an attire worn by both men and women alike.
Specialties
The Santali clothing is significantly seen in white colour. However, the dresses are available in multiple shades and combinations. These sarees are generally processed and produced via handlooms. They come in a variety of traditional and classic designs. Women drape it like a saree, whereas men use the clothing as a dhoti or phutta katcha.