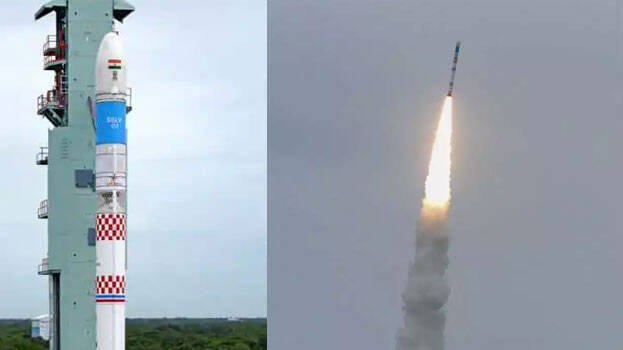 SRIHARIKOTA: Although the Indian Space Research Organization (ISRO) had launched its first smallest rocket Small Satellite Launch Vehicle (SSLV) from Sriharikota, the successful completion of the mission is yet to ascertained.
According to reports, the SSLV has suffered data loss at the terminal stage even though three stages were performed and separated. As per preliminary conclusions, there has been some technical glitch in the velocity trimming module (VTM) powered by 0.05 tonne of liquid fuel for precise injection of satellites. Efforts are underway to resolve the issue.
Meantime, ISRO Chairman S Somnath said that the space agency's maiden SSLV has suffered data loss at the terminal stage. The rocket, carrying Earth Observation Satellite (EOS-02) and a student-made satellite AzaadiSAT, had lifted off at 9:18 am, on Sunday.
AzaadiSAT was developed by 750 school girls from rural areas under the leadership of 'Space Kidz India'. Small satellites such as the AzaadiSAT can be deployed in the low of orbit of the earth using SSLV rockets at a lower cost. With the launch of SSLV, PSLV will be relieved from the launch of small satellites.
The SSLV is designed to carry a payload of 500 kg into the orbit. The PSLV can carry a payload of up to 1,750 kg into orbit. Low cost, speed, multi-satellite capability, on-demand launch and launch infrastructure are some of the distinguishing features of SSLV.
Girl power behind AzaadiSAT
AzaadiSAT has been developed by a total of 750 girls across India. It is the result of inspiring girls to take up Science, Technology, Engineering, Mathematics (STEM) courses. The CubeSat is a small rectangular satellite. An eight-kilogram CubeSat can carry 75 different payloads. Each weighs about 50 grams.
According to the ISRO, girls from rural areas across the country were instructed to build these payloads, which were later assembled by the student team of 'Space Kidz India'. The payloads include not only a UHF-VHF transponder operating on ham radio frequencies to enable voice and data transmission for amateur radio operators, but also a selfie camera.
AzaadiSAT also contains a long-range transponder and a solid-state PIN diode-based radiation counter to measure the ionizing radiation in its orbit. The ISRO will be utilizing a ground system, developed by Space Kidz India, for telemetry and for communicating with payloads in orbit.
"The mission is meant to promote women in STEM as this year's UN theme is Women in Space", said Rifath Sharook, Chief Technology Officer, Space Kidz India.