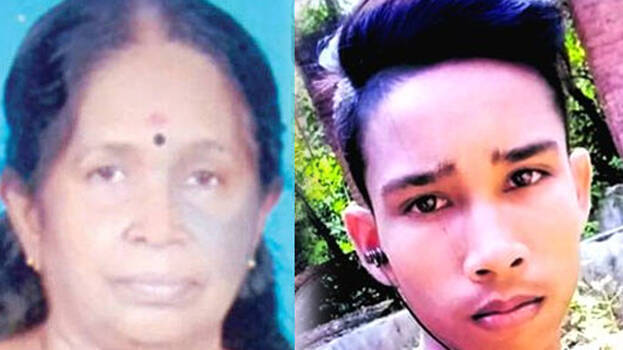 THIRUVANANTHAPURAM: The body of Manorama (68) of Meenamkunnil House, Rakshapuri Road in Kesavadasapuram, murdered on Sunday was cremated at Shanthikavadam the other day. Her body was handed over to the relatives at 3 pm after the post-mortem. Many including her relatives and locals paid homage to the body kept in the house.

The residents of Rakshapuri Nagar are in a state of disbelief over the demise of the housewife. Locals said that even though she doesn't talk much to anyone, she gives a small smile to them. She is not seen outside much as she is busy with her household chores. Locals said that if anyone rings the bell, she will open the door only after peeping through the window and identifying the person.
Manorama and her husband Dinaraj retired as senior superintendents of collegiate education department. Only the two were staying in the house. Their only daughter Neelanjana is at her husband's house in Paravur. She visits her parents at times. K Muraleedharan MP, MLAs Kadakampally Surendran, V K Prashanth and many others paid homage.
A six-member team including Adam Ali reached the place two weeks ago for the construction of a two-storied house next to Manorama's house. A team who were there earlier were in a friendly relationship with the couple. Adam Ali was addicted to drugs and PUBG.
The migrants behaved in a good manner with Dinaraj's family, said his son-in-law's father Sadanandan, retired additional secretary. He said the family gave them water to drink considering them as their guests.
The forensic officials conducted a search at Manorama's house and the place near the neighbour's well where the body was dumped, from yesterday morning. The scientific investigation was prolonged following the suspicion whether Adam Ali was assisted by anyone to commit the crime.
A search was conducted by a team led by commissioner Sparjan Kumar. The forensic team collected the signs of taking the body to the nearby well.
Dinaraj went to attend the funeral of his friend's father in Varkala on Sunday. He had to return after the locals informed him that his wife is missing, said Dinaraj's son-in-law and cooperative inspector Binu. He and his wife Neelanjana had visited the family two weeks ago.