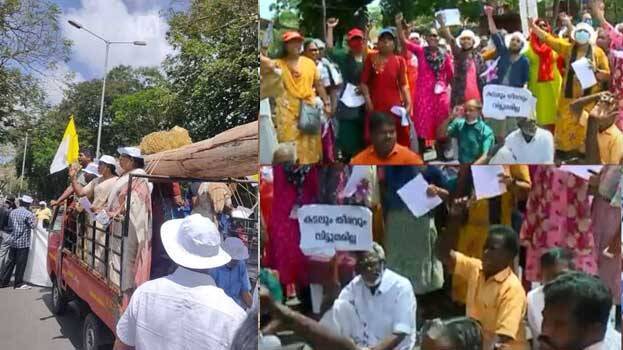 THIRUVANANTHAPURAM: Clashes broke out in many places of the district in the secretariat march staged by the fishermen under the leadership of the Latin archdiocese. The strike is against the coastal erosion following the construction of Vizhinjam port. Many priests also participated in the strike. A clash broke out when the police stopped the fishermen for coming with the boats.
Police stopped the vehicles carrying the boats in Thiruvallam, Kazhakoottam, General Hospital Junction. Following that, a verbal dispute broke out and some unruly scenes were witnessed. The police were of the stand that vehicles carrying the boats cannot be allowed to enter the side of the secretariat. Transportation came to a standstill when the protestors besieged the roads. Meanwhile, some vehicles reached Museum Junction, the protest centre, even though they were stopped by the police.

Fishermen have been on strike for a long time due to the coastal erosion. Another demand is that the government should ensure rehabilitation to those who lost their homes in the sea attack. Many fishermen in the state are starving. Five fishermen who had gone fishing the other day had died. General convener Mon Eugene H Pereira said that due to the construction of the port, the seashore from Panathura to Veli has been lost and more than 500 houses have been destroyed.