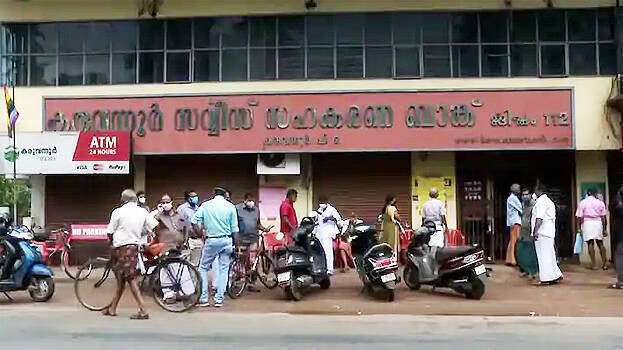 THRISSUR: The Enforcement Directorate on Wednesday conducted raids at the Karuvannur Co-operative Bank in Thrissur. It also conducted raids at the houses of five accused in the bank fraud case. The ED officials have recovered some important documents. The raids were carried out by a 75-member ED team from Kochi to find out the benami deposits of the accused.
The raids were carried out at the houses of former director board president KK Divakaran, ex-secretary Sunilkumar, ex-branch manager MK Biju Kareem, ex-senior accountant Jiles and ex-Rabco commission agent Bijoy. The officials recovered some land documents from Diwakaran's house and some files and documents from the bank. The officials collected information even by calling employees who were on leave to the bank. The inspection led by ACP Ratnakumar started at around 8 in the morning and lasted till the evening.
ED had been conducting a parallel investigation into the bank fraud. Earlier, the ED officials had visited the bank and checked the documents. The ED's action comes after the incident in which an old woman died due to a shortage of money for availing medical treatment despite having deposited lakhs in the bank. It is learned that the ED will seek details of the case from the Crime Branch.
Charge sheet yet to be filed
Although a year has passed since the crime branch filed a case in the Karuvannur fraud case, no charge sheet has been filed yet. The crime branch says that the investigation is going on. Eighteen cases have been registered so far.