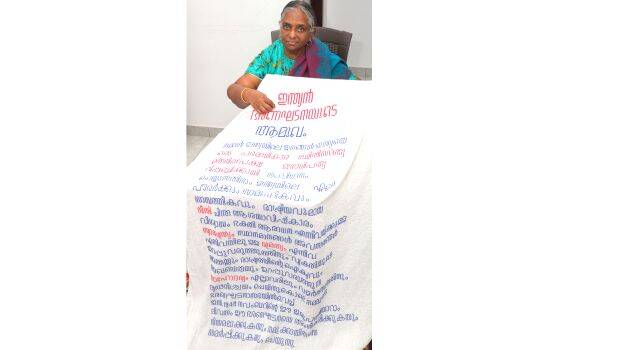 KOLLAM: 67-year old Uma Rani made a special independence day gift for her grandchildren. She sewed the preamble of the Constitution in a cloth in Malayalam. Uma Rani is a native of a Nagercoil living in Kollam for the past 50 years. Although she speaks Malayalam well, she doesn't know to write Malayalam. Her grandchildren Sairam and Sainath taught her to write.
Rani, who is an expert in embroidery sewed the preamble in a cloth having 2 metre length and 1.5 metre width. She did it using red and blue threads. It took her 25 days to complete. She will gift this to her grandchildren on Monday. Rani is a fan of Carnatic musician T M Krishna and it is he who inspired her to do this. She saw a video of him protesting against CAA and decided to sew the preamble in Malayalam.
She learnt embroidery while studying at St. Joseph's Convent School, Nagercoil. Rani came to Kollam after marriage.