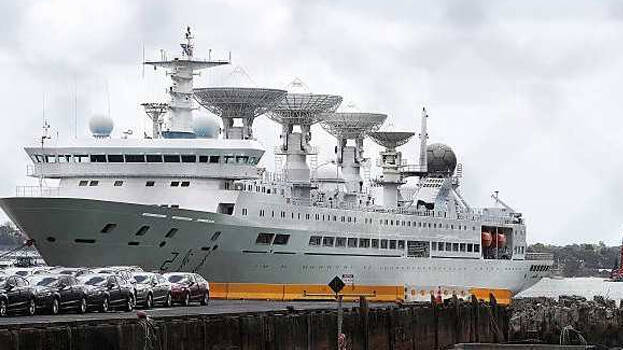 COLOMBO: Despite India's opposition, China's ballistic missile and satellite surveillance vessel 'Yuan Wang 5' has reached Sri Lankan port. Although India had asked Sri Lanka not to allow the ship, which poses a huge security threat, the latter gave in to the Chinese demand in the end. Earlier, the port chief of Sri Lanka Ports Authority (SLPA) had asked Beijing to defer its visit. However, the Chinese ship continued its voyage without paying any attention to Sri Lanka's proposal.
Sri Lanka's Hambantota port is only 160 kilometre away from India. The port was constructed during the tenure of Mahinda Rajapaksa using a Chinese loan. It is situated in the hometown of the Rajapaksa family. However, as Sri Lanka failed to pay back the loan, China took the port on a 99-year lease in 2017. The port was built by a Chinese company namely China Merchant Port Holdings at a cost of 140 crore dollars.
Following objections raised by India and the US, China had changed the ship's route, later increased the ship's speed and returned to the Lankan port. The ship will dock at the Hambantota port for a week till August 22. According to official explanation, the arrival of the ship is for refueling and collection of essential supplies.
However, India considers the presence of Yuan Wang 5 as a threat to its national security. The spy ship is equipped with a mastered space and satellite tracking too. Hence, precautionary instructions were given to the nuclear power plants of Kalpakkam and Kudankulam in Tamil Nadu, which is close to Sri Lanka, and the ISRO centre in Sriharikota in Andhra Pradesh. The Kerala coast, including the VSSC, also comes under the ship's surveillance limit.
India has been supplying essential goods to the economically devastated Sri Lanka for months. There is strong protest on social media accusing Sri Lanka of not taking strong action to stop the Chinese spy ship. The Lankan government's justification is that the ship was allowed to dock as India did not give a clear reason for its objection.
Yuan Wang 5
The ship is operated by the Strategic Support Force (SSF) of the People's Liberation Army (PLA) in China.
Length: 730 feet, a 400 crew-ship
Major mission is to monitor satellites, ballistic missile launches and military installations
Involved in maritime surveillance, space, electronic and cyber war strategies
Can easily spy and monitor up to 750 km away
Equipped with huge antennas and sensors