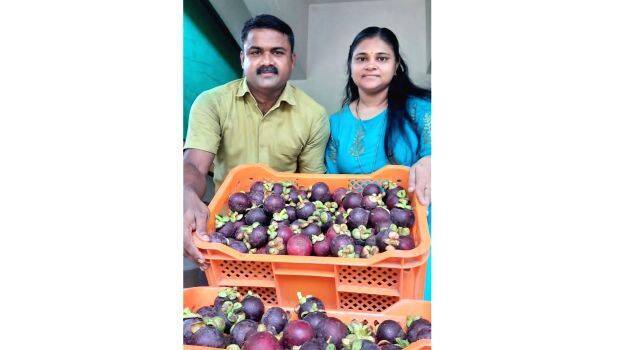 THRISSUR: Mangosteen cultivation by Denny is the backbone of his family. Denny quitted his job for agriculture. The income of the trees cultivated in half an acre is Rs 3 lakh once they bear fruit.
Denny went to Bengaluru for photography job but decided to move on to farming after seeing Mangosteen growing in the backyards there. In his three-and-a-half-acre land back home crop farming including bananas were common. He learnt more about the mangosteen farming and the income. Fourteen years ago, at the age of 34, Denny returned to farming. Although many others expressed doubts, Denny did not back down. 50 trees were planted. The yield is more than 1000 kg. At the beginning of the season, the cost is Rs 300 per kg. It will be sold directly and as wholesale to traders and in VFPCK's market. Denny is supported by his wife Linju and daughter.
He uses organic manure. It takes 7-8 years to get the yield. The harvest season is in June and July. Apart from Denny, there are almost 400 farmers in the area whoc ultivates foreign fruits. There are exports to Bengaluru, Chennai, Hyderabad, Delhi and Mumbai.