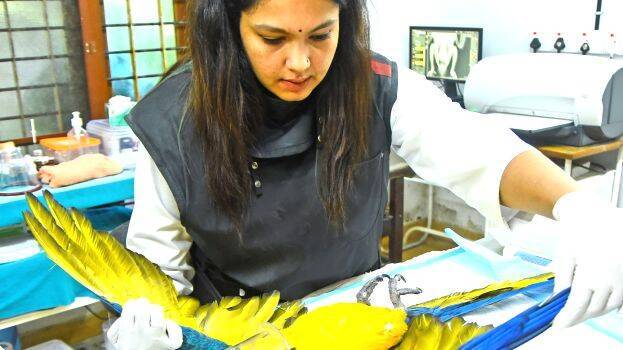 ALAPPUZHA: A four-year-old parrot lying in the operation theatre for surgery after receiving anaesthesia, a Conure parrot awaiting treatment for throat infection in the hospital verandah, and three macaw parrots brought from Tamil Nadu for treatment- these are the sights from Sara's Birds and Exotic Animal Hospital, Thumboli, Kerala's only speciality hospital for birds.
It was a long cherished dream of veterinarian Rani Maria Thomas (30) to set up a hospital for birds. Although it is not something new in foreign countries, the hospital is the first of its kind in Kerala. People from other states as well come with their birds to the hospital. Animals like monkeys, iguanas etc also undergo treatment here.
Rani, a master of veterinary graduate, decided to start a bird hospital in her backyard after undergoing training in Abu Dhabi and Dubai Falcon Hospitals and with two years of service experience at a bird hospital in Mumbai.
Grew up with birds
Dr Rani's parents, KT Thomas and Beena, have been running a bird farm called Sarah's at home for 35 years. There are hundreds of parrots, including exotic species, on this farm. They do not have any business interests other than giving away baby parrots to bird lovers. Rani, who grew up among these birds, had decided from a young age that her career would be connected with birds.