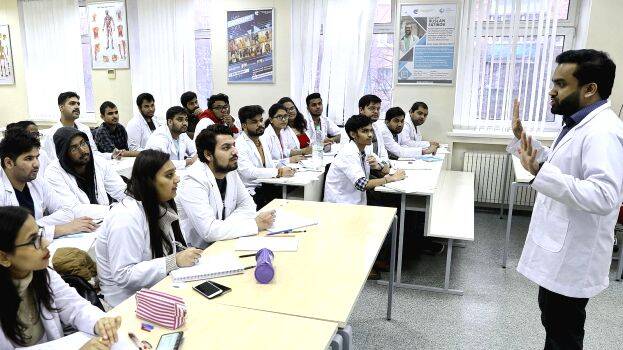 NEW DELHI: The Centre has submitted before the Supreme Court that in consultation with the National Medical Commission (NMC) it has taken pro-active measures to assist returnee students from Ukraine but added that transferring these students to colleges in India would seriously hamper the standards of medical education in the country.
The Centre apprised the SC that any further relaxation including the prayer seeking transfer of these returnee students to Medical colleges in India would hamper the standards of medical education.
In the affidavit, the Centre said the Government of India in consultation with the NMC, the apex medical education regulatory body in the Country, has taken pro-active measures to assist returnee students from Ukraine while balancing the need to maintain the requisite standard of medical education in the country.
The affidavit was filed by the Centre on a batch of pleas filed by Indian students who have been evacuated from Ukraine and seeking permission to continue medical study in India.
The Centre said that till now, no permission has been given by the NMC to transfer or accommodate any foreign medical students in any Indian medical institute or university.
The Centre said that the provision of the academic mobility program was permitted only for those students who are already undergoing medical education in medical universities of Ukraine and are unable to finish such education because of disruption caused by the undergoing war.
The Centres said further, the allegation that candidates with Zero marks got admission in the private medical colleges in Indiais grossly frivolous and vehemently denied. It may be noted that the common NEET exam has been conducted since 2018 and only those candidates who secure more than 50 percentile marks are eligible to take admission in Indian Medical Institutions.
It added that aggrieved students have gone to foreign countries for two reasons. Firstly, due to Poor merit in the NEET Exam. Secondly, the affordability of Medical Education in such foreign countries.
The Supreme Court bench headed by justice Hemant Gupta listed the matter for September 16 for further hearing.
The plea was filed by evacuated students, who have sought the urgent indulgence of this court in light of the extraordinary situation which has presented itself in the aftermath of the Russia-Ukraine war crisis which has gravely impeded their education of them. The unfortunate events in Ukraine have led to the evacuation of students and consequently, their education has inevitably come to a stand-still.