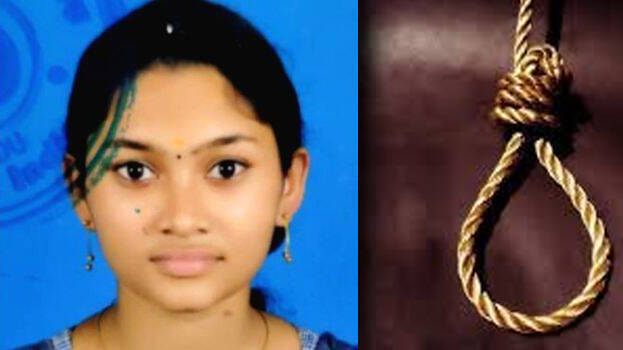 KUNNATHUR: The attachment notice served had pained my daughter, said Aji Kumar, father of Abhirami, who committed suicide the other day. She had asked her father to cover the notice and the default on repayment of the loan was due to the pandemic, he said.
He said that he had sought more time from the bank but they said that nothing could be done. 'Everyone builds houses for their children to live. I built this house for my daughter to die. What to do…will give the house to the government if they want it. Let them do whatever they want,' said Aji Kumar.
Abhirami, a second year graduate student, committed suicide after a revenue recovery notice was stuck on her house. She was found hanging in the bedroom of her house at 4.30 pm yesterday. Only her grandmother Shanthamma was at home at the time of the incident. The people who came rushing hearing her cries rushed her to the hospital but her life could not be saved.
Aji had taken a loan of Rs 10 lakh from Kerala Bank's Patharam branch to build a house. Following a default of the repayment, the bank manager and the police came to her house at 11 am yesterday and stuck the attachment notice.
Aji and his wife came to know about their daughter's death when they were in the bank. They came to the bank to request the authorities to avoid the revenue recovery proceedings. The bank officials explained that the first stage of the process was to show that the land is under their control. They said the attachment will be implemented only after giving an advertisement in the newspaper. Meantime, Abhirami's post-mortem will be conducted today.