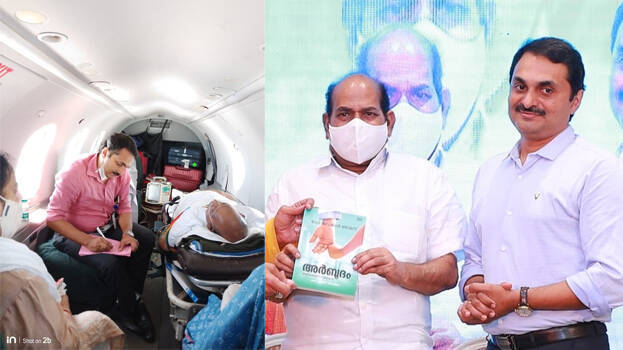 Oncologist Dr Boban Thomas, who treated Kodiyeri Balakrishnan, said the leader was a person who faced cancer with extraordinary courage. Despite being in advanced stage of pancreatic cancer, his enthusiasm to participate in party events was extraordinary. He insisted on attending party events even though he was frequently admitted to the ICU due to poor health conditions, and when his health improved a little the next day. As a doctor, we were often worried but he would smile and say nothing would happen, the doctor mentioned in his Facebook post.
Doctor remembers Kodiyeri
I got an unexpected call on the afternoon of Sunday, August 27. Comrade Kodiyeri should be shifted to Chennai Apollo by air ambulance on Monday itself.!'
I was on a boat trip to Poovar resort with my friend Dr Sanju Cyriac, Medical Oncologist at Ernakulam Rajagiri Hospital at that time. I had picked Sanju from the railway station to attend a Liver Cancer meeting at Poovar Island.

I was a bit tensed on the directive asking me to accompany the comrade on Monday.

The reason was I had a presentation session that evening. Also a lot of paper work including treatment summary to be completed before leaving. The next day Sunday was a holiday also. Although complicated, these are things that need to be done with great seriousness and caution. The doctors from Apollo contacted and briefed them one by one about the details of the comrade's treatment.