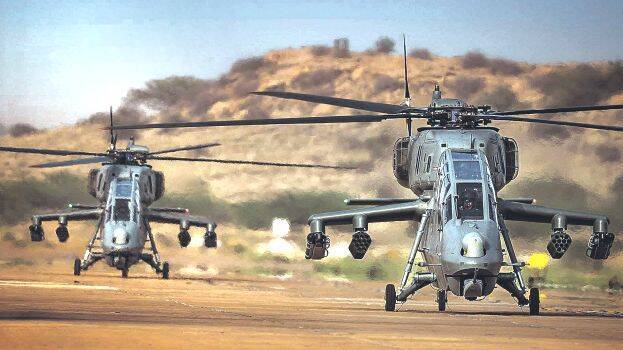 NEW DELHI: The first batch of indigenously-developed Light Combat Helicopters (LCH) named 'Prachand' was inducted into the Indian Air Force on Monday in the presence of Defence Minister Rajnath Singh.
The induction ceremony was held in Rajasthan's Jodhpur where newly appointed Chief of Defence Staff (CDS) Anil Chauhan was also present along with the Union Minister.
While speaking on the occasion, Singh said that LCH will enhance our capability and will boost defence production and it proves India's commitment towards self-reliance in Defence production.
"There could not have been a better timing for LCH induction than Navratri and in the land of warriors, Rajasthan," Singh said, adding that the LCH is a result of research and development for two decades.
"The LCH is a result of research and development for two decades and its induction into IAF is an important milestone in defence production," Singh further said.
The copter was manufactured by Hindustan Aeronautics Limited.
In March this year, the Cabinet Committee on Security, chaired by Prime Minister Narendra Modi, approved the purchase of 15 helicopters locally at a cost of Rs 3,887 crore. The production of the first batch was completed last year.
Defense Minister Rajnath Singh said that Prachand will help increase the efficiency of the Air Force.
Chopper that can be deployed in high-altitude operations
It can land and take off from an altitude of 5,000 metres with weapons and fuel
Can reach Siachen and Ladakh
Twin engine, twin pilot, crash landing gear
52 feet long
15 feet wide
15 feet tall
Weight 2250 kg (unarmed)
Can carry 1750 kg of weapons
330 kmph maximum speed

Weapons
1. Air to Air Missile - Mistral
2. Anti Tank Dead Missile- Dhruvastra
3. Cluster bomb
4. Grenade bomb
Attack
1. Can destroy the enemy's defence system,
2. Can prevent infiltration
3. Can counter drone attacks
4. Can be deployed in high-altitude bunker-busting operations