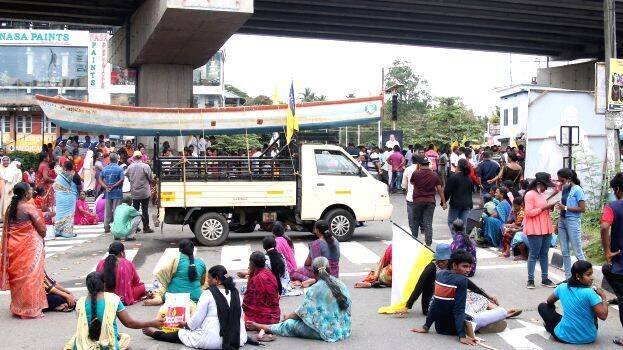 The protest against the construction of Vizhinjam Port, which was led by the Latin Catholic Archdiocese, saw roadblocks at eight places in Thiruvananthapuram. Not only did the residents of Thiruvananthapuram suffer due to the blockades, but also those who had come from different places to the capital for various needs.
For the organizers of the protest, it was a huge success. The protesters blocked important roads, including the national highway, and junctions making traffic come to a standstill. Those who left their homes and those who came to Thiruvananthapuram for various reasons got stuck in the blockade.
Many had to return to their homes after they could not reach their destinations whether it was the airport, railway station, school, college, hospital, bus stand, etc. Parents who sent their children to school before the protest became worried about their children. Seventy persons missed their flights. Even ambulances carrying patients were blocked, showing the intensity of the strike.
Under the constitution, civil rights are as important as the right to protest. However, the civil rights of citizens are trampled upon by the organizers of protests such as this. The judiciary has given orders many times concerning the right of travel of citizens. It is a shame that court orders do not have any value when faced with an organized power.
How can we justify the things that took place on Monday, in the name of protest? In any blockade, the organizers and security personnel see to it that those in an emergency are allowed to continue their travel. However, in Monday's blockade, the police everywhere stood as mere spectators.
What does it all mean? When a hundred or two hundred protesters march towards the gate of the Secretariat, the police get ready with grenades and water cannons. But when the capital city came under the control of the protesters for eight and a half hours on Monday, there were no police to come to the rescue of the common people.
Those who protested against the PFI's actions on hartal day did not say a word against the last day's blockade which curbed travel in a big way.
No government can accept the unrealistic demand of the Latin Archdiocese to stop the construction of Vizhinjam port. Minister, V Sivankutty, said that the government has accepted six out of the seven demands put forward by the protest committee.
The only demand left to be accepted is abandoning the construction of the port. These kinds of unrealistic demands will only strengthen the allegation that some other hidden agenda is there.
The Vizhinjam protest is being planned to spread to the whole of Thiruvananthapuram district and to other districts. It is surprising that the leaders of the protest are not aware of the benefits to the nearby villages and to thousands of job seekers across the state.
If the protesters continue to move forward with such protests, then we have to pay a heavy price.