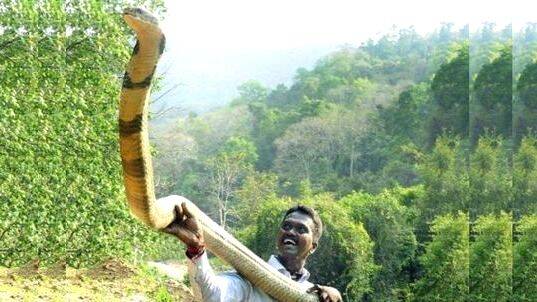 THIRUVANANTHAPURAM: At any moment, a special flight from Sweden will land at Thiruvananthapuram International Airport and will return to Stockholm in Sweden with our Vava Suresh. There, a highly venomous king cobra has escaped from the zoo. The mission is to find and trap it.
Yesterday, Suresh received a message that the representative of the Swedish government, Vava Suresh, will him and he should prepare for the trip. The message came from the White House in the United States. Suresh's program Snake Master, which is being aired by Kaumudy TV, acted as an inspiration for this.
Since Vava Suresh was a Keralite, the top official in Spain got on the phone with his friend, a Malayali official at the White House. The official, who had seen videos of Suresh catching snakes on Kaumudy YouTube, called Kerala Kaumudi Deputy Editor AC Reji and informed him. After getting the number from AC Reji, the same officer called Vava Suresh and asked him to be ready.
Stockholm is the capital city and home to 22 percent of Sweden's population. It is concluded that the king cobra, which somehow crawled out of the zoo there, may have reached a human settlement. It is difficult to catch the snake as the winter season has started. So people are very nervous. That is why the zoo authorities decided to bring an expert to find the snake. The information about Vava Suresh was obtained when the top officials who searched the internet in this regard. After watching the footage of Suresh catching a snake on Kaumudy TV's YouTube channel, they were impressed. They have also collected information on another European snake catcher.