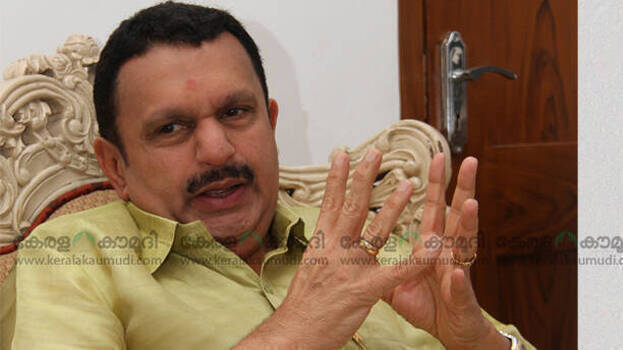 KOZHIKODE: K Muraleedharan MP harshly criticised the act of preventing congress leaders and youth congress from attending Shashi Tharoor's programme in the district. He said the unofficial ban on programmes was part of a conspiracy and some eyeing the chief ministerial post were behind it. Talking to the media, he said everyone knows what happened but is not saying as it is a party matter.
'Usually, an investigation is conducted to find out what happened. We all know what happened here. The DCC president told me everything. Something that shouldn't have happened has occurred yesterday. See that it doesn't happen again in the future. The KPCC chief had asserted that there is no ban on anyone and any Congress leader can participate in the party programme. Had to withdraw from an invited event due to pressure. I know what it is but is not keen in discussing it publicly. All deliberations other than politeness are conspiracies. The purpose of preventing is something else. There may be some difficulties for those eyeing the chief minister's post, but I don't have any such desires,' he said.
Muraleedharan came to the fore yesterday supporting Tharoor. He said that one cannot move forward keeping away Tharoor. Congress workers can participate in all programmes attended by Tharoor. No action will be taken in the name of it. Many want to keep him aside and this has taken place against me also. Tharoor's services will be utilized by the party. He is a leader who works in the forefront of the party. Muraleedharan yesterday said the Congress is a broad party and Tharoor will have a role in the activities in Kerala.

Meantime, Tharoor's Malabar tour got underway to a rousing start in Kozhikode yesterday despite an undeclared ban by top Congress leaders in Kerala. Though the organizers of the seminar, the district youth congress committee withdrew, Jawahar Youth Foundation conducted the function under the leadership of Kozhikode MP M K Raghavan and hundreds participated. Youth Congress state vice president Rijil Macutty, state general secretary V P Durqifil, congress councillors of the corporation and district panchayat members were also a part of it. Congress chief Mallikarjun Kharge, Sonia Gandhi, Rahul Gandhi, KPCC President K. Sudhakaran and M K Raghavan will file a complaint.

The two programmes were held at K P Kesava Menon Hall yesterday. The morning programme was led by the lawyers' congress city committee. The organizers of the controversial second seminar were the youth congress district committee. At around 4 pm on Saturday, the youth congress district leadership informed via Facebook that they are withdrawing due to instructions from the high command. Following that, Jawahar Youth Foundation chaired by M K Raghavan took over the programme.
Tharoor visited M T Vasudevan Nnair, Acharya M R Rajesh, K P Unnikrishnan and former MP Veerendra Kumar's house yesterday. He will be visiting prominent people today also. He will return after meeting League president in Panakkad and other leaders including P K Kunhalikutty. Apart from the lecture programs, visiting and holding discussions with religious and cultural leaders angered the prominent leaders. They are concerned over the increase of Tharoor's political influence in Kerala.