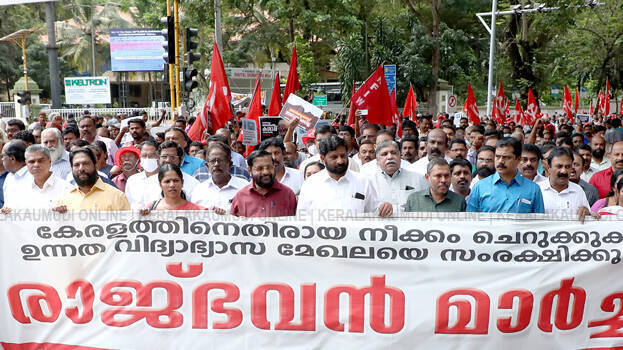 THIRUVANANTHAPURAM: The Chief Secretary has issued a show cause notice to seven senior officials of the secretariat who participated in the Raj Bhavan march held by the LDF demanding the protection of the higher education sector. They have been asked to give an explanation within a week. The governor had enquired about the action taken against the officers who participated in a political march, which is against the service rules. The show cause notice was issued after this. The Governor's Principal Secretary had written to the government to provide details of possible violations of the employees' code of conduct, and subsequent actions taken in this regard. It is reported that P Honey, Additional Secretary of Public Administration Department and Secretary of Kerala Secretariat Association will be among those who have received the notice.
But the Governor said that he did not demand action against the officials but asked the chief secretary for an explanation as he received a complaint. He said that he is not personally interested in such matters and is only focused on the university issue.
BJP state secretary K Surendran was the first to raise the allegation that officials participated in the Raj Bhavan march against the Governor on November 15. Following this, party district secretary VV Rajesh also lodged a direct complaint with the Governor. Along with this, the names of the officials and pictures of them participating in the march were given. Following this, the Governor forwarded the complaint to the Chief Secretary.