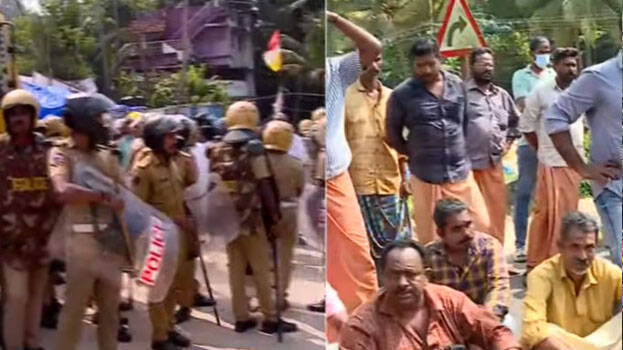 THIRUVANANTHAPURAM: People staging protest against the Vizhinjam port stopped the Taurus lorries carrying granite stones needed for the construction works. The protest is being conducted by a group led by priests. The protesters stand is that they will not allow the construction of the port under any circumstances. People including women are protesting on the road.
However, there was a protest against the protesters led by the supporters of the Vizhinjam project. When they also arrived as a group, the police were in a dire situation. There was a dispute between the two sides. Protesters hurled large stones at those in favour of the port. The police are working with extreme caution to avoid conflict. Things are likely to get more complicated.
Settlement talks
Due to the division within the Vizhinjam strike committee, the settlement talks that were scheduled to be held yesterday with the Chief Minister Pinarayi Vijayan and the Latin Archdiocese authorities did not take place. An informal meeting was held between the Chief Minister's office and Archbishop Thomas J. Neto on Thursday. Based on this, it was agreed that the strike could be ended yesterday. The unofficial discussion was concluded after fixing the time to hold the official discussion on Friday. After the discussion with the Chief Secretary VP Joy in the morning, it was decided to hold an official discussion with the Chief Minister and the Archbishop in the evening at Cliff House and make a joint announcement that the strike is over. Chief Secretary VP Joy reached the Secretariat at 9.45 am for the meeting at 10 am. After waiting in the chamber for more than an hour, the leaders of the strike committee did not come. Following the information that the diocesan authorities would arrive at Cliff House in the evening, the Chief Minister also waited for them, but the archdiocesan authorities informed that there was a difference in the strike committee regarding ending the strike.
Delay in delivering granite stones
Adani Vizhinjam Sea Port Limited's decision was to bring granite stones to the project area yesterday, but the movement of the load did not take place as the protest committee did not remove the pandal. The port construction company is avoiding a direct confrontation with the protesters.