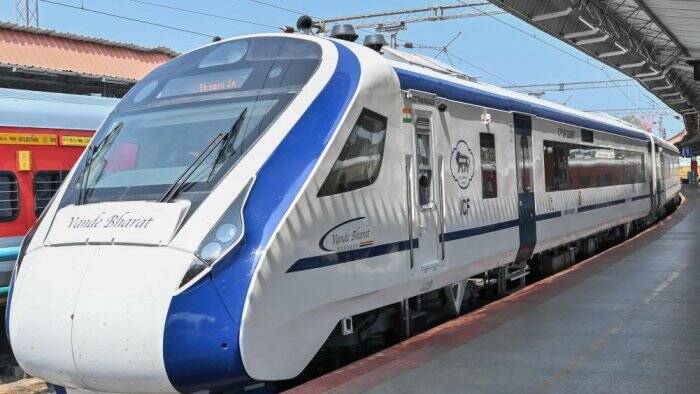 THIRUVANANTHAPURAM: The high-speed Vande Bharat Express train with state-of-the-art facilities for Kerala may be announced in the central budget. The busy Chennai, Bengaluru and Mangaluru routes are under consideration. Southern Railway has also made this recommendation. Thiruvananthapuram Division will be supplied with two units of 16 passenger cars manufactured at Integral Coach Factory in Chennai. Kerala's Vande Bharat Train is expected to be a part of 75 trains to announced across the country by August.
The speed of Thiruvananthapuram-Eranakulam (via Alappuzha) and Shornur-Mangalore routes will be increased to 130 kmph for Vande Bharat. At present the average speed between Ernakulam-Shornur is 80 kmph and Shornur-Mangalore is 110 kmph.
Rail bypasses will be constructed at Kollam and Kuttipuram stations which have sharp bends.
Vande Bharat is running on Chennai-Bangalore-Mysore route from this month. Tamil Nadu Chief Minister MK Stalin is putting pressure on the Center for Chennai-Kanyakumari Vande Bharat. It may be extended to Thiruvananthapuram once the doubling of the lane is completed. 44 trains are under construction at Chennai, Kapurthala and Rae Bareli coach factories. Eight trains will be manufactured per month.
Currently there are five Vande Bharat Express
New Delhi-Varanasi
New Delhi- Sri Mata Vaishno Devi Katra
Gandhinagar-Mumbai
Oona-Delhi in Himachal
Chennai-Bangalore-Mysore
Travel comfortably and safely
'Kavach' to avoid collision
Explosion-proof coaches
It reaches 100 kmph in 52 seconds
The coaches are powered by electric motors underneath
Revolving seats, biotoilet
Wide windows, air conditioning
Free Wi-Fi, 32 inch screen
Mobile-laptop charging socket, CCTV
Economy and Executive classes.
39% higher rate than Shatabdi
Lithium battery with three hours backup
A train will have the capacity to accomodate1,128 passengers in 16 coaches
Manufacturing cost- Rs 130 crores