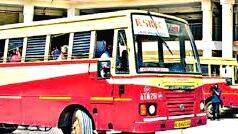 THIRUVANANTHAPURAM: The state government will inform the Centre not to implement the decision to scrap all government vehicles that are older than 15 years after April 1, 2023.
If the central policy is implemented, it will also apply to transport corporations including KSRTC. KSRTC used to sell transport buses that are older than 15 years at a scrap price. But last month, due to inadequacy of buses, the permit period of buses including Super Class was increased from 7 years to 9 years. The tenure of ordinary buses has also been increased from 15 to 17 years.
If implemented, then 331 buses which completes 15-years on road will have to be demolished. Currently less than 4000 buses are in service. It is estimated that the reduction of 331 will affect the working of KSRTC.
Of the remaining buses, 671 are 13-14 years old. There are 586 buses which are12-13 years old. If the new policy comes into force, the registration of government vehicles that are past 15 years will not be renewed. The new rule will be applicable to Central/State Governments, Corporations, Municipalities, Panchayats, State Transport Departments, Public Sector Undertakings, Central and State autonomous bodies. Union Minister Nitin Gadkari had earlier stated this policy will be implemented.