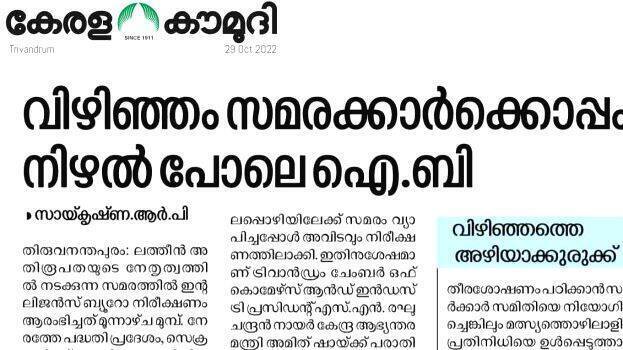 THIRUVANANTHAPURAM: The state intelligence has submitted a report to the Chief Minister, which says that the ex-members of the banned Popular Front of India (PFI) conspired to conduct widespread riots in the follow-up to the violence during anti-Vizhinjam Port protests. It also says that a senior priest with foreign connections heading a nine-member group conspired to make it a violent protest.
Former members of the Green Movement, an offshoot of the PFI involved in environmental issues, had infiltrated the protest and took the leadership to conduct the riots. In addition to this, anti-left environment organizations, Maoist Frontier Organization, and extreme Islamic thinkers are also involved in the violent riots.
The planned riots, which included the brutal attack against police officers, is also part of this. They had made a blueprint to start protests against quarries so that the construction at Vizhinjam port can be blocked due to lack of supply of rocks.
They even planned for a new protest by aligning people of Western Ghats. The Chief Minister realized this serious threat and ordered a special police team for the protection of Vizhinjam under the leadership of DIG Nishanthini. The CM also ordered the DGP to take precautionary actions.
The intelligence had gathered information that former PFI members were attending Vizhinjam protest sites frequently. Though, the situation is peaceful now, any sudden provocation might make things worse.
Intelligence agencies are also gathering the financial transactions of those who are giving leadership to the protests. Kerala Kaumudi had reported that NGOs giving support to the protest committee are receiving foreign funds.