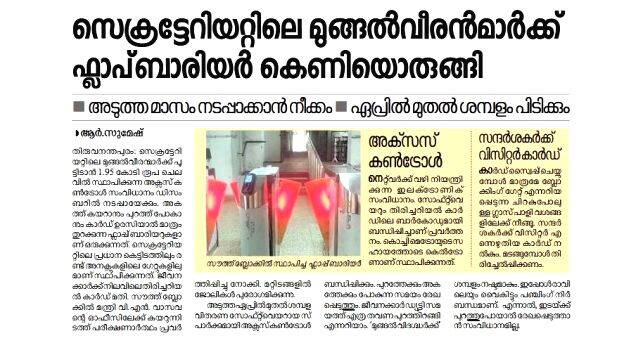 THIRUVANANTHAPURAM: The access control system which allows entry and exit to the secretariat has been linked with the payroll software SPARK. As per this, if an employee mark attendance by punching and then leave from office and remains off-duty for four hours, then that day's salary will be cut. Half day salary will be cut if the employee is not on duty for two and a half hours. Absence will be considered until returning to duty. Even if the person leaves several times, the salary will be cut as per the hours.
The government has called a meeting of service organizations on the 9th of this month to discuss the guidelines prepared by the Chief Secretary including this. Although it is said that the rules are applicable to IAS officers, VIPs will be excluded.
Meanwhile, the monthly grace period allowed for late arrival and early departure will be increased from 300 to 1200 minutes.
The ruling and opposition organizations alleged that the move is to restrain organizational activities.
10 minutes to visit other blocks
*Employees are granted 10 minutes to go to Main Block, Annex 1 and 2 for official purpose. They can go thrice if required.
* Maximum grace time of two hours after office hours no matter how long the overtime is.
If the visitors' loses the 'Visitor ID card', then Rs 500 have to paid as fine.