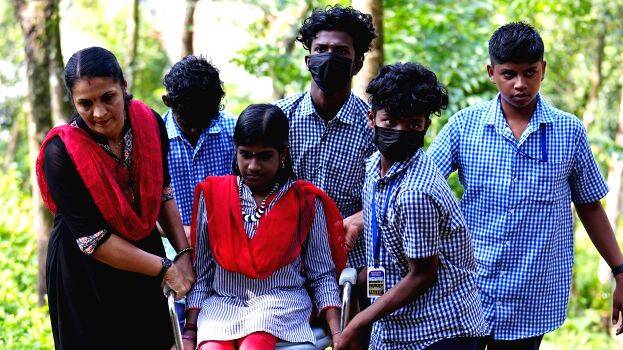 PATHANAMTHITTA: Nandana's dream is to go and study at class continuously. She lost the control to her lower body since her birth. She is now studying in the ninth standard.
It is a big effort for her to reach the tarred way to the school from her home atop a hill in Naranganam. The road is filled with stones and pebbles that it becomes impossible to roll her wheelchair. Four persons must carry her with the wheelchair till the road.
From there she must travel two kilometers to reach Naranganam Government High School. Till three years back, it was her father, Manoj, who used to take her to school. He was an autorickshaw driver and used to carry her down the slope and then take her to school in his auto. But now Manoj is suffering from heart problems and had to undergo angioplasty surgery and bypass.
Her mother Sreevidya cannot go to work as Nandana and Manoj are both having ailments. Nandana is now being taken to school and brought back by her class mates and special educator, Priya P Nair.
She is fond of cooking and have received many prized for it. She cooks while sitting on the wheelchair. Keerthana is her sister.
The fund for a road from her home was sanctioned from Minister Veena George's MLA fund two years back. It was for Rs.4 lakhs. However, the fund was not able to be used as there was some issue with the registering of the road with the panchayat. Priya Nair and school authorities have rectified the issue. They are all waiting for a good road now so that Nanadana could reach school with less difficulty.