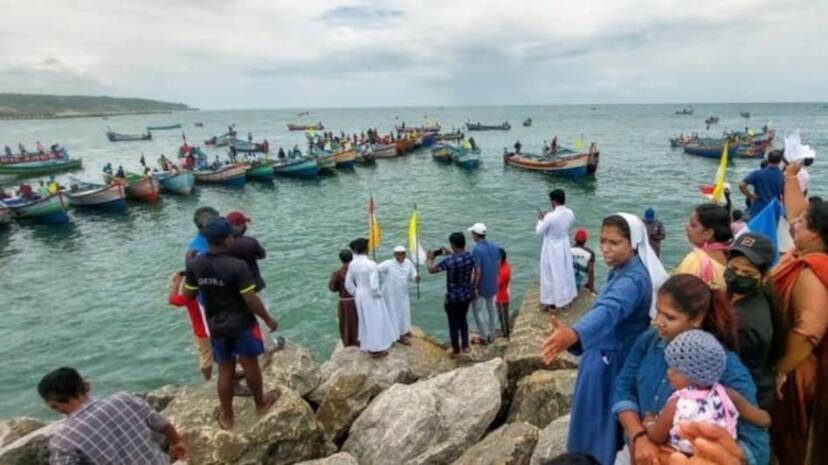 THIRUVANANTHAPURAM: It is learned that Chief Minister Pinarayi Vijayan has taken a tough stance on the consensus formula while the Latin Archdiocese is in a crisis after losing the ball to the government in the Vizhinjam issue. Meanwhile, the Adani Group estimates that the construction of the port can be resumed by December 15 under the security provided by the central forces. The port department also hopes that if the strike ends today as a result of the negotiations, the construction process will start on Thursday.
On Monday, the cabinet sub-committee meeting chaired by the chief minister rejected the four demands put forth by the archdiocese. The demands include the withdrawal of cases and the inclusion of a fisherman's representative on the expert committee. The strike committee is of the opinion that it will withdraw from the demand to stop the construction if the government accepts these demands. The Chief Minister warned the ministers that the inclusion of a fisherman's representative on the expert committee would be interpreted as the government caving in to pressure.
Cardinal Clemis Catholica Bava conveyed the consensus formula to the government through Chief Secretary VP Joy. The chief secretary later informed the strike committee representatives about the sub-committee's position and invited them for discussion. The Archdiocese replied that it needed time to make a decision.
With this, it was decided to hold the discussion with the strikers today at 5.30 pm. Before that, the strike committee will hold a meeting. The strike committee representatives will attend the discussion with the government only if they reach an agreement within themselves. Ministers K Rajan, V Sivankutty, Antony Raju, Abdurahiman and Ahmed Devarkovil participated in the discussion with the Chief Minister.
Demands of archdiocese
1. Monitoring Committee to assess whether the government is complying with assurances. Fishermen should be represented in this
2. The cases against the archbishop should be withdrawn
3. Rs.8000 should be provided from government fund as monthly rent for those who lost their house and land
4. Fishermen's representative in the expert committee
Government's reply
1 Monitoring Committee cannot be formed now
2 Cases cannot be withdrawn
3 Additional amount of Rs 2500 from Adani Group's CSR fund
4 Cannot include fishermen's representative in the expert committee