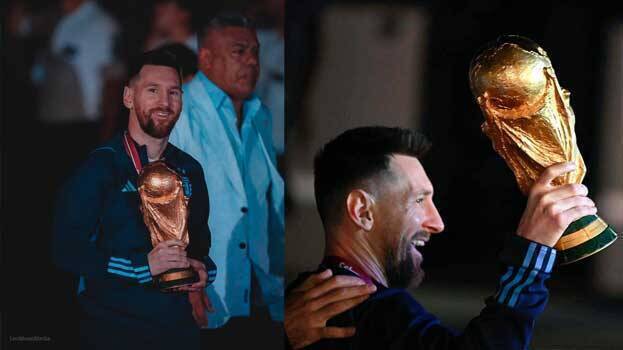 BUENOS AIRES: After a wait of three decades, Argentinian captain Lionel Messi and his teammates reached their hometown with the cup they won in Qatar. Messi and his team arrived in Buenos Aires, the capital of Argentina, with the World Cup at 11:30. The group landed in the middle of their fans waiting to welcome their champions. After greeting the fans, Messi and his team headed to the headquarters of the Argentina Football Association. A small reception has been arranged there. After taking some rest, the team will return again at Obelisco in Buenos Aires to greet the fans.

Captain Lionel Messi stepped off the plane first, holding the gold trophy aloft, followed by his triumphant team onto a red carpet at the airport, greeted by reporters, officials and a live band. Authorities were struggling to control the crowds that thronged both sides of the road for a glimpse of the champions.
Messi after receiving the World Cup said that he wanted to reach his country as early as possible. The triumph in Doha was Argentina's third World Cup win and its first since 1986, when the legendary Diego Maradona led the team to victory in Mexico.