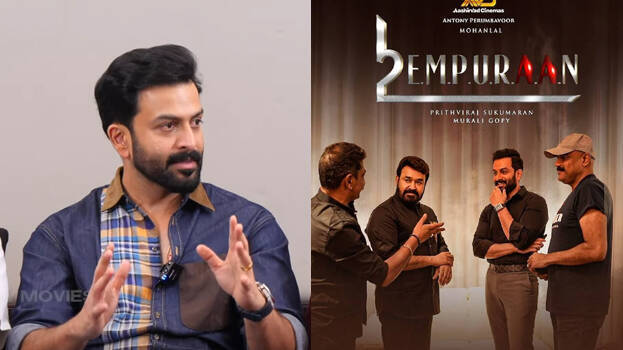 Prithviraj and Shaji Kailas teamed up for 'KAAPA' after the success of 'Kaduva'. The film hit the theatres on Thursday. The film tells the story of goons in Thiruvananthapuram city. Apart from Prithviraj, the film has a large cast of stars like Asif Ali, Aparna Balamurali, Anna Benn, Jagadeesh etc.
Now, in an interview given to Kaumudy Movies, Prithviraj, Aparna Balamurali, Asif Ali, Jagadeesh and others spoke more about the movie.
"The movie gives a clear idea of 'KAAPA' or the Kerala Anti-Social Activities Prevention Act. I hope the audience will accept the film,"- Prithviraj said.

'I think the good thing now is that the audience recognizes the sincerity and hard work of the filmmakers. The audience felt that Indu Gopan's story is different when it comes to this film. This is very different from what Shaji Kailas has done so far. Considering all this, the film will be accepted by the audience.'- said Jagadeesh.

Prithviraj also spoke about the much anticipate Empuraan. 'Empuraan is not done on a budget of five hundred crores or anything close to that. It's a big movie, which means the canvas is big. The movie has things going on before and after what you see in Lucifer. The locations of the movie are yet to be decided.'- said the actor.
To a question whether Mohanlal would give a Lamborghini to Prithviraj like Mammootty's gift of a Rolex watch to Asif Ali, Prithviraj said with a smile, 'I hope he does.'