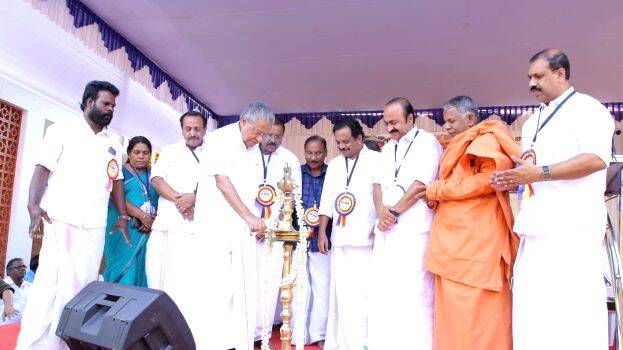 PAYYANUR: The Chief Minister, Pinarayi Vijayan, said that the Sivagiri Mutt has the responsibility to announce to the world the high ideals of humanity of Sri Narayana Guru and his disciple Ananda Theertha Swami. The CM requested the Sree Narayana Dharama Sangha Trust General Secretary Shubhananda Swami to take that responsibility.
The CM was speaking at the inauguration function of the closing of the ninetieth anniversary celebration of the Sree Narayana Vidyala began by Swami Ananda Theerthan.
The Chief Minister said that Ananda Theerthan fought against the inequality all his life and said that the forces that attacked him is coming back now. He said that fighting against that forces is the honor that can be given to Sree Narayana Guru and not just rituals or flower offerings.
The CM continued that we are now living in times where Sree Narayana Guru's teachings are very valid. The timeless teachings of the Guru must be spread far and wide by Sivagiri Mutt. He said that casteism is taking root in people's mind and the forces that make it happen is increasing in society. These forces have the backing of superstition and evil practices. Some incidents in recent times make us doubt that.
The new generation are unaware about the reformation movements of the past in Kerala. They cannot be blamed. The old generation must take efforts to make the new generation aware about the past. Only when we learn how the present was formed can we take back the values that have been lost, said the Chief Minister.
Opposition leader VD Satheesan unveiled the statue of Swami Ananda Theerthan, while the statue of Sree Narayana Guru was unveiled by Subhagananda Swami and the statue of Mahatma Gandhi was unveiled by Rajmohan Unnithan MP.
TI Madhusoodanan MLA presided over the meeting. Railway Advisory Committee Member, PK Krishna Das delivered the main speech.