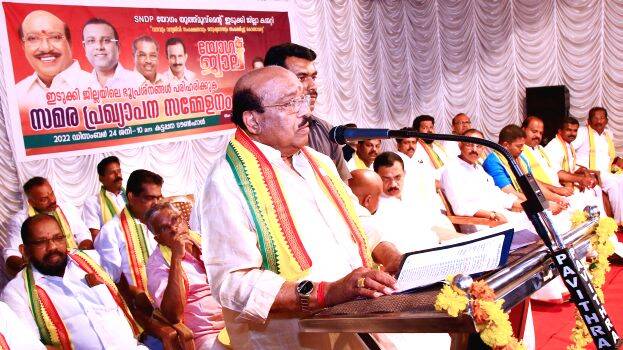 KATTAPPANA: SNDP Yogam General Secretary, Vellappally Natesan, said that the central and state governments must intervene to sort out the land issues in Idukki district. His demand was made during the inauguration of the Youth Movement's protest announcement and mass public function 'Yogajwala'.
Vellappally Natesan said that the governments coming into power have the responsibility to reform the guidelines of land law with time. Idukki is now a populated area and a tourist destination because of the struggles of poor people who fought against nature. He said that the laws that give more importance to animals than humans must change.
He said that the central and state governments have the responsibility to make laws that protect humans. SNDP Yogam is not just a community organization but it is a protest organization. He added that the Yogam has a history of fighting for the downtrodden from every community.
The SNDP Yogam General Secretary said that during the time of princely states, the organization was able to fight for Christian, Muslim, Ezhava and other backward communities to gain reservations. It also fought for the right to walk on roads.
Vellappally Natesan also reminded that the Yogam submitted the Ezhava Memorandum to the Divan demanding representation of Ezhava community in government services. It is not to capture others' rights but to achieve social justice.
He continued that if justice is rejected for any person regardless of religion or caste, then the SNDP Yogam has the right and power to raise voice against it. And that is why SNDP is entering into protest to solve the land issues in Idukki.
Vellappally also said that if the Youth Movement's first phase agitation do not yield results, then the SNDP Yogam itself if head the protest and go to any lengths to solve the issue.
Malanadu Union President, Biju Madhava presided over the function. Tens of thousands of followers of Sree Narayana Guru attended the mass rally and resulted in a show of power of SNDP Yogam.