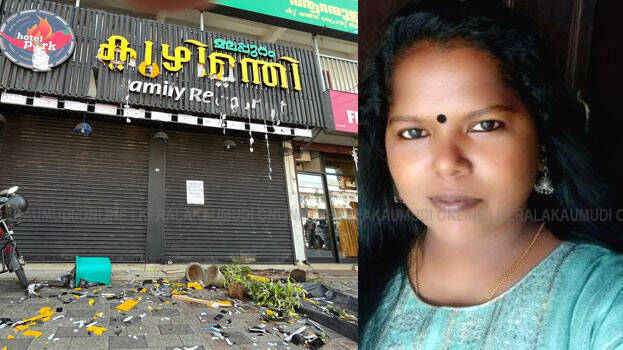 KOTTAYAM: DYFI staged a protest in front of a hotel in Sankranthi here over the death of nurse Reshmi Raj (33) of Kottayam Medical College due to food poisoning. After marching to the 'Malappuram Kuzhimanthi' hotel, the activists vandalized the hotel. The CCTV cameras installed in front of the hotel and plant pots were also destroyed.

Rashmi fell sick after eating at the hotel on December 29. She went through vomiting and diarrhea before being admitted at a private hospital. Reshmi was admitted to Kottayam Medical College on Sunday after her health deteriorated. She died at 7 pm on Monday. The hospital officials informed that her health condition remained critical for three days and the death was due to an infection in the internal organs.
The body is in the medical college mortuary. Officials also informed that more information will become clear only after the post-mortem. Relatives said that Reshmi was taking medicine for a rheumatic disease. 20 other people who ate from the same hotel also got food poisoning. They sought treatment at ICH and a private hospital in Kudamalur. The license of the hotel was suspended by the Food Safety Department. Reshmi is the daughter of VN Raju and Ambika of Palathara house in Kiliroor. Brother : Vishnu Raj.