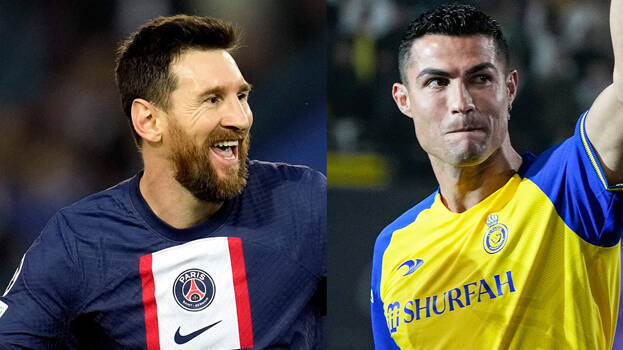 RIYADH: Cristiano Ronaldo will face Messi on 19th of this month in the match in Riyadh. The friendly match is at 8 pm at Kong Fahd Stadium in Riyadh. French footballer Mbappe will also play for PSG along with Messi in the match. Although Ronaldo has been officially introduced to Al Nassr, he hasn't played for the team yet.
It is expected that the match against PSG on the 19th will be the debut match of Ronaldo in Al Nassr. Ronaldo's debut in Al Nassr was delayed due to a two-match ban imposed by the England Football Association (EFA). Tickets for the match were sold out within hours after the booking started.
Portuguese legend Ronaldo was brought to Al Nassr Club for the highest amount in the history of football. Ronaldo's annual salary will be 200 million Euros (roughly Rs. 1775 crores) including advertising. The contract is for two and a half years. Club officials released a picture of Ronaldo wearing the number 7 jersey of Saudi Pro League club Al Nassr. Ronaldo's salary in Manchester United was 100 million dollars. The new salary is almost double this amount.