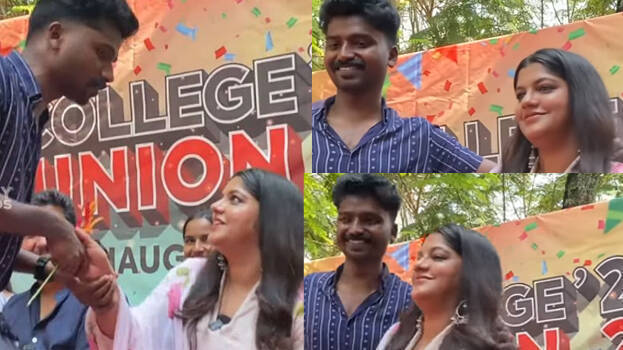 A student behaved inappropriately toward actress Aparna Balamurali during the inauguration of the College Union. The actress, who expressed her displeasure, was seen moving away from the student as he tried to put his hand around her shoulder after giving her a handshake.
The incident happened when Aparna visited Law College to take part in a promotional event for her latest film 'Thankam'. Actor Vineeth Sreenivasan and other crew members of the film were also present at the event. The student came to the stage to give flowers to the actress. The actress's face showed displeasure as the young man held her hand and made her stand up.
Upon noticing this, another student came to the stage and apologized to the actress. Later, the student, who misbehaved with Aparna, came back and apologized to her. He told Aparna that he was a fan of hers and did not intend to misbehave with her.