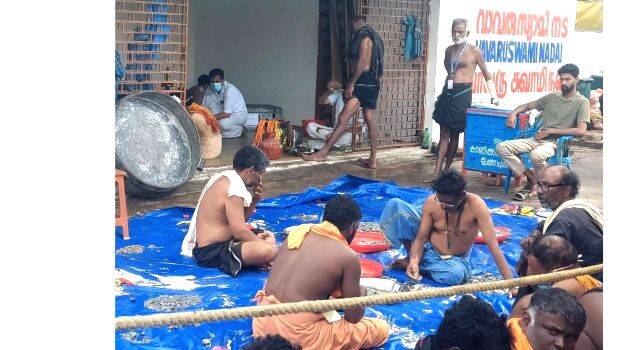 SABARIMALA: The coin counting in Sabarimala was moved outside the Bhandarappura as the place was filled with coins. Bhandarappura is a large high-security hall in the north nada. Heaps of coins are piled up here. As there was no place for the staff to sit, the coins from other coffers were counted nearby them. The coins are counted by placing tarpaulin sheet in front of vavar nada and coins are put in the sheet. Although, the temple closes tomorrow, staff says that it will take days to complete the counting. Last day, the counting was also held in front of Annadana Mandapam as well.
The coffers in Pampa and Nilakkal have not been opened yest. It is estimated that coins worth Rs 7 crore are to be counted. Travancore Devaswom Board has received the highest revenue in its recent history. The Devaswom Board estimates that it has received an income of Rs 318 crore. Officials suggest that when the money is fully counted, it will be at least 330 crores.
The High court has sought report from Sabarimala special commissioner and Devaswom vigilance regarding the 'kanikka' counting. The division bench comprising of Justice Anil K Narendran and Justice PG Ajith directed the Devaswom vigilance to inform whether there is any fault regarding the counting.
Kerala Kaumudi had earlier reported about damaged notes worth lakhs in Sabarimala. This was because the notes were left uncounted. The High court intervened and sought a report in this situation.