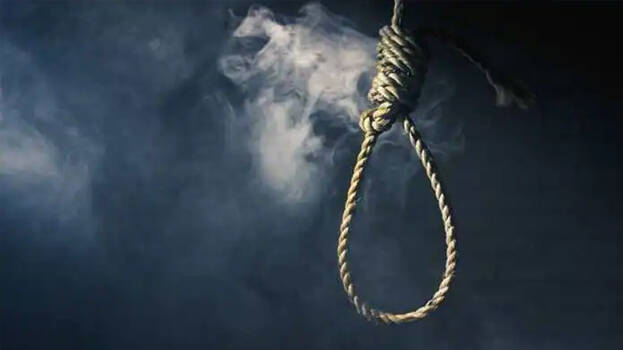 KOLLAM: A youth, who was questioned and released by the Chavara Police on the complaint of the Palakkad Police Assistant Commandant, was found hanging in his bedroom on Friday. The deceased has been identified as Ashwanth (21), son of Chavara native late Vijayathulasi and Ramya. Ashwanth was found hanging when his neighbours broke the door open after noticing that Ashwanth was not responding despite his mother knocking at the door for a long time.
In his complaint, the Assistant Commandant of Palakkad Police had alleged that Ashwanth was harassing his daughter. Ashwanth's family besieged the Chavara police station with his body on Friday evening, alleging that Ashwanth committed suicide after police officers and the assistant commandant threatened to frame him in a POCSO case. The relatives stopped the protest after the Karunagapally ACP assured them that an investigation would be conducted. In connection with the investigation, a meeting was held at the ACP office at night under the leadership of DIG South Zone.
According to Ashwanth's relatives, Ashwanth was in love with the daughter of the assistant commandant, a native of Chavara. Upon discovering this, the assistant commandant lodged a complaint with the Chavara police alleging that Ashwanth was harassing his daughter. Following this, Ashwanth was summoned to the station on Thursday. The assistant commandant was also present at the station when Ashwanth reached there at around 2.30 pm with his friends. The policemen then seized Ashwanth's mobile phone. In the meantime, Ashwanth's friends informed the girl about the matter.
At around 8 pm, the assistant commandant left the station saying that his daughter had attempted suicide. Following this, the policemen released Ashwanth. They asked him to come to the station at 10 am the next day. According to Ashwanth's relatives, Ashwanth told his friends that the policemen and the assistant commandant had threatened to implicate him in a POCSO case. After returning home at 10:30 p.m., he didn't mention any of this to his family.
Ashwanth, who passed an electronics diploma course, was supporting his family by doing whatever jobs he could get after his father's death. The body was cremated at his house premises after post-mortem.
Meanwhile, police are claiming that they did not threaten Ashwanth. According to the police, they only advised him not to get involved in unnecessary cases.