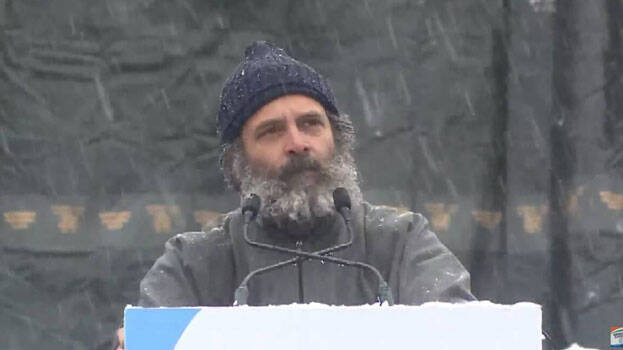 SRINAGAR: Congress leader Rahul Gandhi-led Bharat Jodo Yatra's concluding session continues in Srinagar despite heavy snowfall. The Sher-e-Kashmir Cricket Stadium, where the closing ceremony was held, was covered in snow.
'Rahul said that he started the yatra without any certainty that he would be able to complete it. A leg injury suffered during college days created a problem when the yatra started. There were also warnings from many that there might be major security problems during the journey. Even though we had to face many problems including adverse weather conditions, the love and support of the activists and the people helped us to complete the Bharat Jodo Yatra.


'No BJP leader can walk like this in Kashmir, they will not do it because they are scared. Narendra Modi, Amit Shah or Ajit Doval cannot understand a situation like Indira Gandhi's martyrdom or that pain. However, the people and soldiers of Kashmir will understand that. I can understand the pain of the children of the martyred soldiers in Pulwama. Many asked me what was the purpose of the yatra. One goal is to end hate killings. The ideals of love and peace are attacked. I fight to save these ideas,' said Rahul.
The closing ceremony is held in spite of inclement weather. Apart from the Congress, 11 opposition parties are participating in the concluding meeting. Bharat Jodo Yatra, which lasted for 136 days, reached Kashmir after covering 4080 km. Rahul Gandhi started his yatra from Kanyakumari on September 7, 2022. Along with many political moments, the journey was also full of controversies.