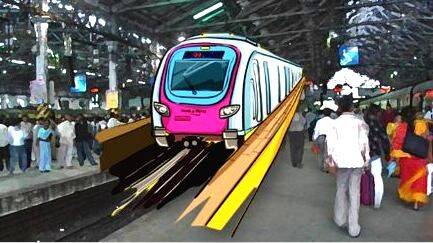 MUMBAI: Local trains and the unnerving rush of commuters are a ubiquitous sight in Mumbai. The rush on local trains later got imbibed as a culture of Mumbaikars. But now, the scenario is witnessing a change for good. After the recent launch of two lines of the metro by PM Modi, the MMRDA has reported that at least 10 lakhs commuters have used the non-polluting lines 2A and 7.
The numbers prove that the metro is going to be a mainstay in Mumbai. The rates are modest and the travel provides leisure of its kind. The local trains are still a demanded mode, but the numbers have seen a dip, which gives relief for many commuters hassling to hang on the edge of the train teetering with their life.
"Now Metro is not just a means of transport, it's becoming a new lifeline," said SVR Srinivas, metropolitan commissioner, MMRDA. Srinivas added that with rising environmental concerns people are switching from private vehicles to more eco-friendly modes of transportation.
The 18.6-km-long line 2A connects suburban Dahisar (East) with the 16.5-km-long D N Nagar (yellow line), while line 7 (Red) links Andheri (East) with Dahisar (East).