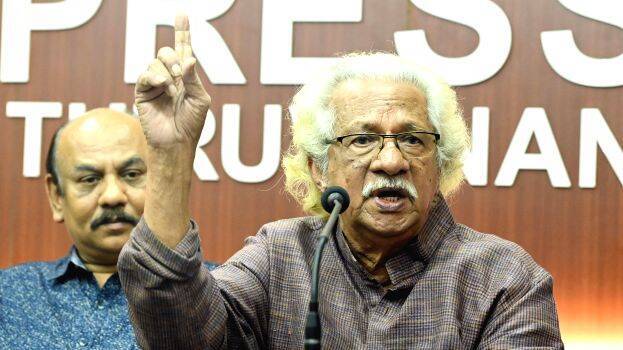 THIRUVANANTHAPURAM: Renowned film director Adoor Gopalakrishnan on Tuesday resigned from the chairman post of K R Narayanan Institute of Visual Science and Arts. Adoor told the media that he handed over his resignation to Chief Minister Pinarayi Vijayan. Speaking at a press conference, Adoor said that the incident should be investigated by high-ranking honest police officers.
Adoor, who said that his resignation is part of the protest, added that he is worried about the future of the institute and the children who took admission in the new batch. Eight qualified and experienced teachers and director Girish Kasaravalli, the chairman of the academic council, resigned. Adoor also hinted that more people will soon leave the institute.
"Shankar Mohan was subjected to baseless allegations and vile abuse. There is a conspiracy behind the incident. Gate guard, PRO, office clerk etc. are involved in the conspiracy. The strike was planned by the students who had come to Thiruvananthapuram under the guise of taking part in IFFK. They carried our riotous programs. The humiliation and expulsion of Shankar Mohan is an irreparable tragedy," Adoor said.
"No employees were assigned to do Shankar Mohan's household work. Once a week, an employee of the Institute is sent to clean the Director's official residence. None of these cleaners is from the Dalit community. Shankar Mohan and I were not included in the probe by the inquiry committee that the Higher Education Department constituted. I am not aware of the conversation Minister Bindu had with the students. Even though the CM established a high-level panel of inquiry, they did not conduct any thorough investigations. Instead, they turned in a report that contained the lies that were widely disseminated on social media.," Adoor added.