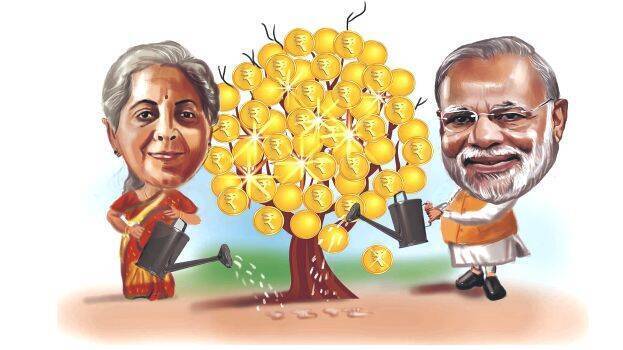 NEW DELHI: According to the economic survey, the country will have an economic growth of seven percent in the current financial year. At the same time, it will decrease to 6.8 percent next year, according to the Finance Minister's survey tabled in the Parliament.
Union Finance Minister Nirmala Sitharaman on Tuesday tabled the Economic Survey for 2022-23 in the Parliament, a day ahead of the national Budget for the next financial year.
President Droupadi Murmu addressed a joint sitting of the two houses of Parliament after which the Economic Survey was tabled first in the Lok Sabha and then in the Rajya Sabha by Union Finance Minister.
The Economic Survey has projected a baseline GDP growth of 6.5 per cent in real terms for the next financial year 2023-24.
The survey document said the projection is broadly comparable to the estimates provided by multilateral agencies such as the World Bank, the IMF, and the ADB and by RBI.
"The actual outcome for real GDP growth will probably lie in the range of 6.0 per cent to 6.8 per cent, depending on the trajectory of economic and political developments globally," the survey read.
The Economic Survey document, formulated under the supervision of the chief economic adviser V Anantha Nageswaran, will give insights into the state of the economy and various indicators in the current financial year 2022-23 (April-March) and outlook for the next year.
The Economy Survey may also give some idea about the tone and texture of the actual Budget for 2023-24, to be presented on Wednesday.
Budget 2023 is likely to be the last full Budget of the PM Narendra Modi government in its second term with the next Lok Sabha election due in April-May of 2024. Like the previous two Union Budgets, Union Budget 2023-24 will also be delivered in paperless form.
GDP
2014-15 : 7.4%
2015-16 : 8.0%
2016-17 : 8.2%
2017-18 : 7.04%
2018-19 : 6.1%
2019-20 : 3.7%
2020-21 : -6.6%
2021-22 : 8.7%
2022-23 : 7.0%
2023-24 : 6-6.8%