Pandalam Palace, Devaswom rebut instruction to exclude protesters from procession
| Published on Fri 11 Jan 2019 10:28 PM IST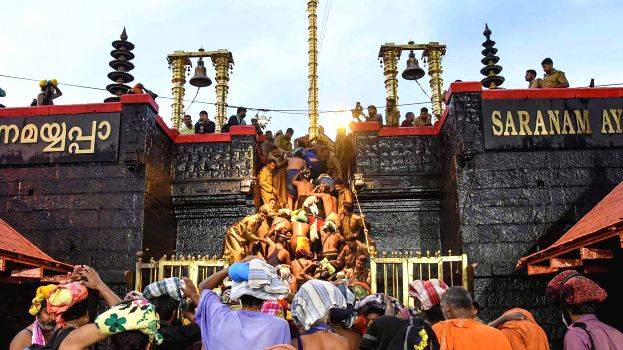 PATHANAMTHITTA: Pandalam Palace and Devaswom Board have rejected the instruction of the police to exclude the persons who were active participants in Sabarimala protests and those who had been remanded in that connection, from Thiruvabharanam procession.

As there was strong protest from the part of palace and devotees, police also slackened its stand. Till Friday evening, police received 160 applications from persons willing to accompany the procession.

155 persons were given clearance certificate. Five applications were rejected since they were involved in criminal cases. Pandalam palace Valiyakoikkal advisory committee handed over to the Devaswom board the list of the names of 22 persons who will be carrying the Thiruvabharanan casket, six helpers and 12 palanquin bearers.
The board has started giving them Identity card. Among them there are also people who had been remanded in connection with Sabarimala protests. The police' initial stand was that they would not give clearance certificate to anyone who had taken part in the protests. The DGP was apprised of people's resentment over this. When the Palace authorities said that the above police stand was not acceptable to them, the answer of district police chief and district collector was that the restriction was aimed at keeping away people with criminal background.
Board's ID card
Meanwhile, Devaswom board will give ID card to around 200 persons who were involved in Sabarimala protest-related criminal cases on the basis of recommendation letter given by Pandalam palace and temple advisory committee.

Palace representatives said that they had given recommendation letters only to those people who were not criminals.