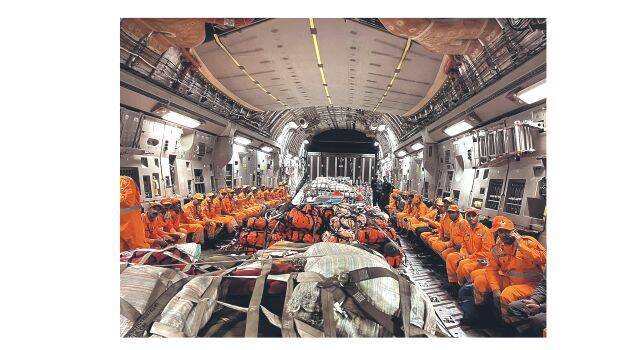 NEW DELHI: India's National Disaster Response Force (NDRF) and the army's medical team have become active in rescue operations in earthquake-ravaged Turkey. At the same time, Pakistan's denial of airspace permission to an Indian Air Force plane carrying relief aid to Turkey made the country a disgrace before the world.
Two NDRF units having 101-members including women, arrived in Turkey yesterday on an Air Force C-17 Globemaster Hercules aircraft. Units from Ghaziabad and Kolkata went under the command of Commanding Officer Gurminder Singh.
Specially trained dogs, modern drilling machines, medicines and other essentials and small vehicles to transport the rescued to hospital were also taken. They will carry out rescue operations at the places suggested by the Turkish authorities.
Army's medical team is also with them. They carry relief materials like 30-bed field hospital, X-ray, ventilator, oxygen cylinders and cardiac monitors. An emergency meeting was held in Delhi on Monday as per Prime Minister Narendra Modi's direction and it was decided to send the rescue force.
Criticism to Pakistan
Yesterday at 3 am, an Air Force plane took off from the Hindon Air Base in Uttar Pradesh with the NDRF members and relief materials. The plane arrived at Adana airport in Turkey around 10:00 am after a detour as Pakistan denied airspace. This is the second time that Pakistan is trying to stop India from carrying out an international rescue and charity mission. In 2021, Pakistan had also denied permission to a flight carrying 50,000 tonnes of wheat and medicines to Afghanistan after the Taliban came to power. Pakistan insisted that the goods should be transported via Wagah border in Pak trucks. Later, Pakistan allowed 50 Indian trucks to pass on what they described as an extraordinary relief mission.
Turkey expresses gratitude
Turkey's Ambassador to India Firat Sunel thanked India for the help. Sunel said that India is a dear 'dost' (friend) and aid is a great support to the country. Union Minister of State for External Affairs V Muraleedharan has informed the Turkish and Syrian embassies that more help can be provided if necessary.
Aid in Japan and Nepal also
The National Disaster Response Force's rescue mission in Japan in 2011 and Nepal in 2015 received global acclaim. Japan was the first international mission for the force, which was formed in 2006. The fourth mission is in Turkey.