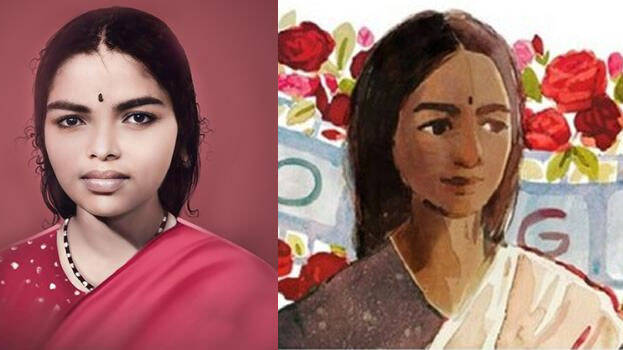 Google has released a special doodle to honor the 120th birth anniversary of PK Rosy, the first heroine of Malayalam cinema. Google released PK Rossi's doodle when she was neglected by Malayalis and Malayalam cinema. Rosie was born on February 10, 1903, in Thiruvananthapuram. She was an artist who came forward to act in films from a community that was being relegated.
PK Rossi entered the film world with the first Malayalam film Vigathakumaran. Rosie is also the first Dalit Christian woman in the history of Malayalam cinema. The movie was written, directed, produced, and starred by JC Daniel.
The shooting of the movie started in 1928. On November 7, 1930, Vigathakumaran premiered at the Capitol Theater in Thiruvananthapuram. PK Rosy played the heroine Sarojini in the movie. Because a lower caste woman played an upper caste character in the film, whenever the heroine entered the screen, the audience responded with howls and chappals.
The screen on which the movie was projected was ripped apart. There was also an incident where Rosie was publicly stripped at Thiruvananthapuram Chalakambolam. Rosie's hut was burnt down and they were exiled.
When Rosie, who ran away to save herself from her landlords, reached the Karamana river on Thiruvananthapuram Nagercoil road, Kesavapilla, a lorry driver who was passing by stopped the vehicle and took her to Tamilnadu. After learning from Rosie what happened, Kesavapilla married Rosie and she took the Tamil name of Rajammal. It is also said that she lived with her husband for some time at Oottupura street in Nagercoil.