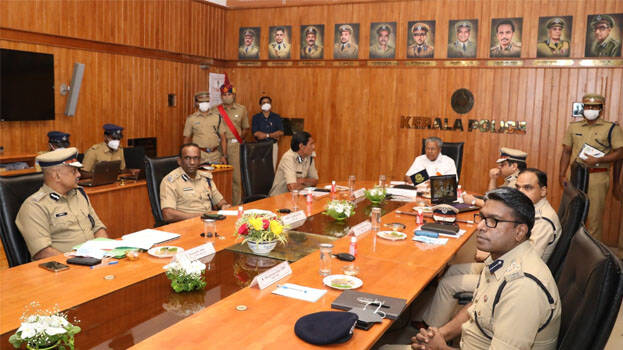 THIRUVANANTHAPURAM: The Chief Minister's intervention has stopped the move to save the criminals in the police by freezing the steps to dismiss the police officers who commit serious crimes. The Chief Minister directed the DGP Anil Kant to speed up the process of immediately dismissing 12 of the 59 officers involved in serious cases. Yesterday, after a meeting of top police officials at the police headquarters, the DGP reached Cliff House and met the Chief Minister. Kerala Kaumudi had reported that the Chief Minister's order was sabotaged and the dismissal of criminals in the police was blocked at the beginning itself. The Chief Minister's intervention came following this.
The DGP informed the Chief Minister that the procedures for the dismissal of 12 persons are in progress and the two persons who have been given notice will be dismissed immediately and there is a delay due to the procedures involved. The Chief Minister stated that strong action should be taken regardless of the rank of the officers, there should be no more complaints and there should be no criminals in the police. In a meeting of top officials, the DGP suggested that the district police chiefs should immediately provide the list of police officers with serious criminal cases and gangster-mafia connections and after departmental inspection, action should be taken at the district and range level.
So far, four accused in the sexual abuse cases and those who sabotaged the investigation have been dismissed. Six people, including two DySPs, are under suspension.
Instructions of DGP
District police chiefs should speed up action against criminals in the police. There should be no distinction of rank in action against officers. They should be given no opportunity to escape by using loopholes in the law and legal advice should be sought for this. DIGs and SPs should provide the list of criminals in the police at regular intervals. Intelligence should be ensured to find criminals. A meeting of the special branch officers should be called every week.
Immediate actions
Officers accused in serious cases and those who sabotaged the cases will be dismissed
Those with gangster and mafia connections will be suspended immediately
Those under suspicion will be removed from law and order duties and transferred
Those who were middlemen in land and money transactions will be suspended
Suspension and criminal case on finding links with goon 'quotations'