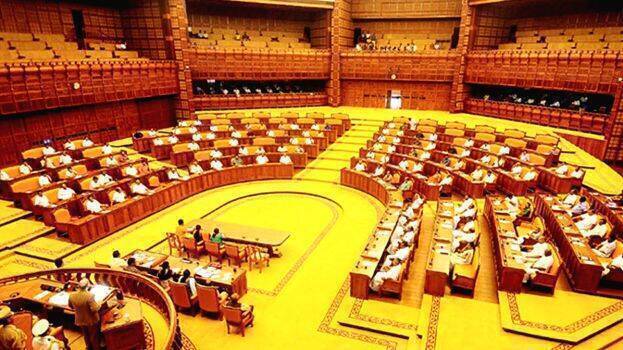 THIRUVANANTHAPURAM: Kerala assembly session has resumed today after a break of two weeks. The session is being convened amid controversies fuming over several issues. The session got stalled on February 9 when the opposition protested against fuel cess. The opposition came with placards and banners. Shafi Parambil MLA arrived in the assembly wearing a black shirt.
The opposition's move is to intensify the protest by raising issues including tax hike, CMDRF fraud and Life Mission scam. The opposition may also raise the issue of police action against those who protested against the budget announcements in the assembly today. The arrest of CM's former Principal Secretary M Sivashankar in the Life Mission scam case and the summoning of CM Ravindran for questioning by the ED will add strength to the opposition protests.
At the same time, an amendment bill curtailing the authority of the governor as the chancellor in forming a temporary governing body for Calicut university was planned to be introduced in the assembly today. But the move was abandoned as the governor's permission was not received. A bill imposing an additional financial burden on the government exchequer requires prior approval of the governor. A draft of the bill, which will cost Rs 27.84 lakh from the government's treasury, has been published on the website of the assembly. The assembly will take up the Panchayati Raj and municipal amendment bills today. In the session which continues till March 30, there will be department-wise fund request discussions to pass the complete budget for 13 days starting from tomorrow.