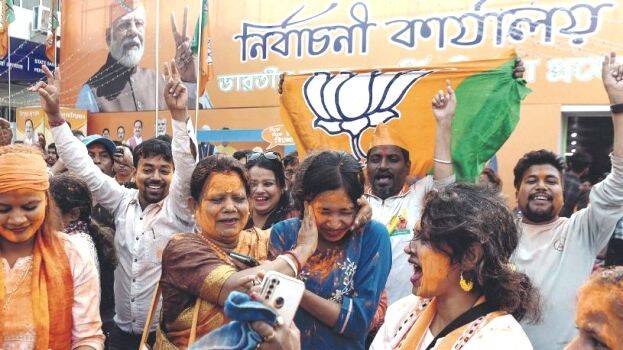 NEW DELHI: While the BJP alliance has retained power in Tripura and Nagaland, Conrad Sagma's National People's Party (NPP) has become the single-largest party in Meghalaya. The BJP is also part of the sweepstakes to form the government in the state having decided to extend support to NPP.
BJP alliance secured 33 seats in Tripura. BJP won 32 seats and IPFT one seat. CPM won 11 seats and Congress three. Tipra Motha Party, which contested for the first time, won 13 seats and became the main opposition party. CPM has lost the position of the main opposition party.
The Left parties and Congress had forged an alliance to keep the BJP out of power in the border state but it did not yield results as in West Bengal earlier. CPI-M and Congress are arch-rivals in Kerala. Together polled around 33 per cent votes in Tripura and bagged 14 seats (CPI-M 11, Congress 3). The Left had contested on 47 and Congress on 13 seats.
IPFT, which had won 8 seats in the tribal sector in 2018 with the help of the BJP, won only one seat this time.
Neiphiu Rio will continue in Nagaland
In Nagaland, BJP secured 12 seats, Nationalist Democratic Progressive Party (NDPP) won 25 seats. Nationalist Congress Party (NCP) bagged seven seats, the National People's Party (NPP) won five seats, Naga Peoples Front, Lok Janshakti Party (Ram Vilas) and Republican Party of India (Athawale) won two seats each. Nitish Kumar's Janata Dal (United) got one seat.
BJP had earlier won a seat uncontested in the 60-member Nagaland assembly. Nagaland Chief Minister and NDPP candidate Neiphiu Rio won from the Northern Angami seat.
NPP again in Meghalaya
In Meghalaya, the National People's Party (NPP) led by Chief Minister Conrad Sangma surprised its rivals by winning 26 seats. The party is poised to lead the second successive government in the state. Election was held on 59 seats in the state. United Democratic Party (UDP) bagged 11 seats. Congress won five seats. Trinamool Congress, which had inducted all Congress MLAs in the previous assembly, also got five seats. BJP, People's Democratic Front and Hill State People's Democratic Party bagged two seats each. Voice of the People Party got four seats. Two seats were won by independent candidates.