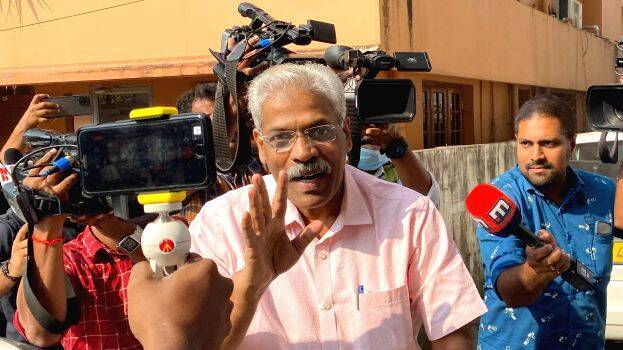 KOCHI: CM Raveendran, additional private secretary to the Chief Minister, was interrogated by the Enforcement Directorate (ED) for ten and a half hours in connection with the Life Mission corruption case. Raveendran testified that he had nothing to do with the transaction. He revealed that M Sivasankar, the former Principal Secretary to the Chief Minister, and UV Jose, former CEO of Life Mission, conducted the negotiations and transactions. Raveendran's statement contradicts Sivasankar's statement that he knows nothing about the Life corruption case.
The interrogation, which started at 9.30 am, continued till 8 pm. ED officials will question Raveendran again after analyzing his answers. The ED officials interrogated Raveendran by showing a letter given by the Additional Chief Secretary to UV Jose, former CEO of Life Mission, regarding the construction of flats in Vadakkencherry. In the letter issued in July 2019, UV Jose was directed to participate in the meeting chaired by the Chief Minister. The letter recommended that Red Crescent will build an apartment on government property and that the MoU be put into effect. Raveendran said that he had nothing to do with it and that the steps were taken by Sivasankar and Jose. He also added that he did not know about things, including bribery.
Raveendran was also asked about the chats between Sivasankar and Swapna Suresh and between Swapna and Raveendran during the period in which the Life Mission contract was signed.
Raveendran reached the ED office at 9.20 am. He was seen smiling and waving his hand at the media while returning from the ED office. He did not respond to the media. ED had questioned Raveendran in December 2022 in connection with the black money transaction in gold smuggling.